Teena the Raptor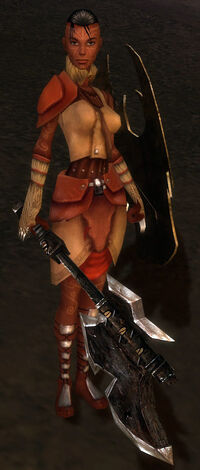 Classification
Description
Teena the Raptor is the Eviscerating henchman available in Heroes' Ascent.
Location
Dialogue
I really don't understand why people in other professions seem to wear such flimsy armor. Sure, it looks nice, but if you're going to bring a cane or a rod to a fight, you should at least wear something thicker.
Not that their armor matters much. They call me "the Raptor" because the bite of my axe cuts through anything:
Skills used
Evaluation
Trivia
---
Ad blocker interference detected!
Wikia is a free-to-use site that makes money from advertising. We have a modified experience for viewers using ad blockers

Wikia is not accessible if you've made further modifications. Remove the custom ad blocker rule(s) and the page will load as expected.