Tarena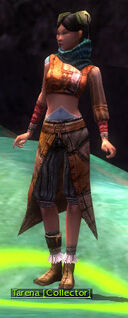 Classification
Dialogue
"The Kirin are magically powerful creatures. Powder ground from their horns can fortify the shells of our creatures, making them durable and resistant. I'd like you to bring me 5 Kirin Horns. In exchange, I shall give you this:"
Collector Items
Tarena
Location: Silent Surf outside the eastern exit of Unwaking Waters (Luxon)
Collecting: 5 Kirin Horns
Ad blocker interference detected!
Wikia is a free-to-use site that makes money from advertising. We have a modified experience for viewers using ad blockers

Wikia is not accessible if you've made further modifications. Remove the custom ad blocker rule(s) and the page will load as expected.