This is an explorable area entry. For information on the location Tahnnakai Temple, see Tahnnakai Temple (location), for information on the mission Tahnnakai Temple, see Tahnnakai Temple (mission).
Description
Only about half of this Explorable area is the actual temple. That half, the south, contains hardly any enemies. The northern half, on the other hand, is even more built-over then most of Kaineng, and is full of large groups of Jade Brotherhood, who due to the three-dimentional nature of the terrain, will often see you long before you can attack them.
Exits
Towns and Outposts
NPCs
Bestiary
Monsters
Bosses
Quests:
Shrines and Blessings
Notes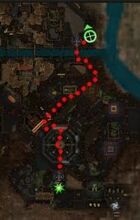 ---
Ad blocker interference detected!
Wikia is a free-to-use site that makes money from advertising. We have a modified experience for viewers using ad blockers

Wikia is not accessible if you've made further modifications. Remove the custom ad blocker rule(s) and the page will load as expected.