Symon the Scribe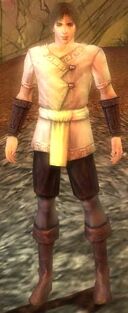 Classification
General
Symon the Scribe can be found in the northern part of Ascalon City (Post-Searing) amongst the murals of the gods.
Quests Given
Quests Involved In
Location
Dialogue
"Greetings, adventurer. My name is Symon. How exciting your life must be compared to that of a lowly scribe like myself!
Is there something I can elucidate for you?"
Notes
Ad blocker interference detected!
Wikia is a free-to-use site that makes money from advertising. We have a modified experience for viewers using ad blockers

Wikia is not accessible if you've made further modifications. Remove the custom ad blocker rule(s) and the page will load as expected.