This article is about Suki, the armor crafter. For information on Suki, the merchant in the Imperial Sanctum mission location, see Suki (Merchant).
Suki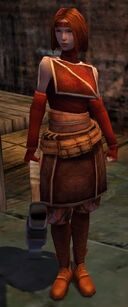 Classification
General
Suki is one of three armor crafters in Kaineng Center.
Location
Armor Sets
Body armor
Headgear
Warrior Helms

Ranger Masks

Monk Scalp Designs

Necromancer Scar Patterns

Mesmer Masks

Elementalist Auras

Assassin Masks

Ritualist Headwraps
Ad blocker interference detected!
Wikia is a free-to-use site that makes money from advertising. We have a modified experience for viewers using ad blockers

Wikia is not accessible if you've made further modifications. Remove the custom ad blocker rule(s) and the page will load as expected.