Stone Soul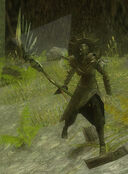 Classification
Description
Like all Stone Guardians, this creature will appear as a non-living statue and will not register on the radar until a player comes within a very short distance of it.
Location
Skills used
Items dropped
Notes
The skill Stonesoul Strike is named after these Stone Souls and bears their image in the skill icon.
Ad blocker interference detected!
Wikia is a free-to-use site that makes money from advertising. We have a modified experience for viewers using ad blockers

Wikia is not accessible if you've made further modifications. Remove the custom ad blocker rule(s) and the page will load as expected.