---
Warning: The following text contains spoilers relating to the plot of Nightfall.
---
General
The statue of the Goddess of Truth, like all other statues of the five gods, is a place of worship. Its avatar will always appear when knelt by, regardless if the world has favor or not.
Appearance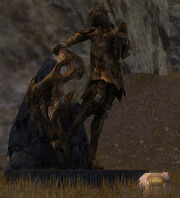 The statue looks the same with and without favor, and has no special animation.
The Goddess is holding the mask of Abaddon.
Location
Notes
The words "Statue of the Goddess of Truth" can be seen from the normal section of Chantry of Secrets by pressing the Alt key.
Ad blocker interference detected!
Wikia is a free-to-use site that makes money from advertising. We have a modified experience for viewers using ad blockers

Wikia is not accessible if you've made further modifications. Remove the custom ad blocker rule(s) and the page will load as expected.