Ad blocker interference detected!
Wikia is a free-to-use site that makes money from advertising. We have a modified experience for viewers using ad blockers

Wikia is not accessible if you've made further modifications. Remove the custom ad blocker rule(s) and the page will load as expected.
General
The statue of Lyssa, like all other statues of the five gods, is a place of worship found throughout Tyria. A Lyssa's Muse can be summoned here by a player kneeling in front of the statue if the world has the Favor of the Gods. In explorable areas, all avatars grant Blessings to a player in exchange for some gold.
Appearance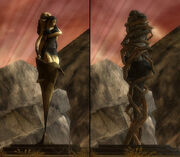 The appearance of a statue of Lyssa depends on whether or not the world has the Favor of the Gods:
Favored - The statue has a golden light (with glittering sparks falling) at its base and is lit with white light.
Unfavored - A lifeless statue engulfed in thorny vines.
Location
A Resurrection Shrine with a statue of Lyssa can be found at the portal from:
Other shrine locations:
A Resurrection Shrine with a statue of Lyssa can be found at the portal from:
Other locations: