Star Light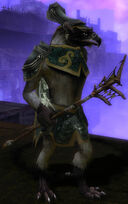 Classification
Description
Star Lights are tengu that act as guardians for the celestials in Nahpui Quarter. They are supporting spellcasters and healers of minor capability.
Location
Skills used
Items dropped
Notes
Although their skills and attacks are not very powerful, it is recommended to take out these spellcasters first, as the interrupts and healing they provide can make a battle lengthy.
Star Lights wielding a celestial weapon will always drop a gold celestial weapon.
Ad blocker interference detected!
Wikia is a free-to-use site that makes money from advertising. We have a modified experience for viewers using ad blockers

Wikia is not accessible if you've made further modifications. Remove the custom ad blocker rule(s) and the page will load as expected.