Stalking Nephila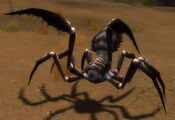 Classification
Description
Stalking Nephila often come in large packs. The lower level Nephila don't pose much of a threat. However, within packs they are usually divided into pairs of aggro. The higher level Nephila can be seen travelling in packs with Bladed Termites.
Location
Skills used
Normal Mode
Level 15
Hard Mode
Items dropped
Trivia
Ad blocker interference detected!
Wikia is a free-to-use site that makes money from advertising. We have a modified experience for viewers using ad blockers

Wikia is not accessible if you've made further modifications. Remove the custom ad blocker rule(s) and the page will load as expected.