Ssissth the Leviathan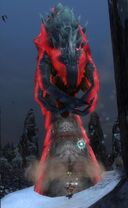 Classification
Map(s)

(click to enlarge)
Description
Ssissth the Leviathan is a Wurm Elementalist boss found in Jaga Moraine prior to completing Prenuptial Disagreement. Afterwards a different elementalist boss spawns with a group. Ssissth is one of the largest wurms in the game along with Frostmaw the Kinslayer.
Location
Skills used
Items dropped
Notes
This boss is easily taken down by using ranged attacks and having one melee character keep Ssissth where he is.
Like most Elementalist bosses with AoE skills, Pain Inverter is very effective against him when he uses Churning Earth or Shockwave.
Ad blocker interference detected!
Wikia is a free-to-use site that makes money from advertising. We have a modified experience for viewers using ad blockers

Wikia is not accessible if you've made further modifications. Remove the custom ad blocker rule(s) and the page will load as expected.