Squaw Nimblecrest
Classification
Description
Squaw Nimblecrest is a level 15 Caromi Tengu Ranger boss found in the northwest portion of North Kryta Province, just a few yards northeast of the collector Wintun the Black. He seems to be a static spawn, standing still in the one spot he appears. He also appears west of D'Alessio Seaboard, in a slightly hidden area southwest of the Tengu fields.
Location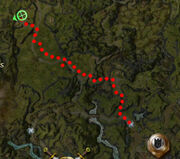 Skills used
Items dropped
Ad blocker interference detected!
Wikia is a free-to-use site that makes money from advertising. We have a modified experience for viewers using ad blockers

Wikia is not accessible if you've made further modifications. Remove the custom ad blocker rule(s) and the page will load as expected.