Ad blocker interference detected!
Wikia is a free-to-use site that makes money from advertising. We have a modified experience for viewers using ad blockers

Wikia is not accessible if you've made further modifications. Remove the custom ad blocker rule(s) and the page will load as expected.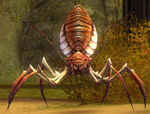 Spiders are a species in the bestiary of Guild Wars.
Spiders in Guild Wars are the traditional Giant Spiders found in the fairytales and myths of many cultures. They resemble a real spider except that they are roughly the size of a human.
Characteristics
All the enemy Spiders in the game are rangers, monks, paragons, or assassins.
They have the nasty habit of hiding on trees or cave ceilings, so they do not show up on the compass. When prey steps close they drop down and attack from range, often with poison.
On one hand bringing skills/items that remove or shorten the poison condition is nice, but on the other hand spiders usually re-inflict the condition so quickly, that it doesn't make much sense to remove it. Instead, better be prepared to be constantly poisoned while fighting spiders and use healing to counter it.
On the weakness side, keep in mind that Spiders ...
Items dropped
Spiders may drop the following loot (besides gold and various weapons and items):
Known Sub-Types
For an alphabetic list of all Spiders, including bosses, see also: Category:Spiders
Notes
A number of other arachnoid creatures in Guild Wars are not not considered belonging to the spider species according to game mechanics, although at a glance they may look like a spider: