Snow Wolf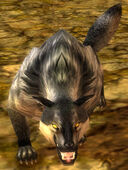 Classification
Snow Wolves are charmable animals native to the Northern and Southern Shiverpeaks.
Locations
Notes
The easiest place to charm a Snow Wolf is in Traveler's Vale just outside Yak's Bend.
Other species of wolf can be found throughout Tyria:
Snow Wolves deal slashing damage.
Other than the name, Snow Wolves are identical to Wolves and count as such for the purposes of unlocking animals at the Zaishen Menagerie Grounds.
---
Ad blocker interference detected!
Wikia is a free-to-use site that makes money from advertising. We have a modified experience for viewers using ad blockers

Wikia is not accessible if you've made further modifications. Remove the custom ad blocker rule(s) and the page will load as expected.