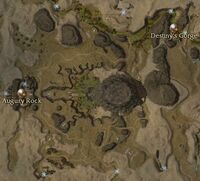 General Information
Area Name: Skyward Reach
Region: Crystal Desert
General Description: Skyward Reach is an area in the heart of the Crystal Desert. At the center of the area is a small lake with a large rock mesa overlooking it. This is the site of the final test of Ascension. The area includes four pairs of two-way teleporters, none of which are required for travelers.
Exits / Neighbour Areas
Outposts:
Bestiary
Monsters
Bosses
NPCs
Quests
Skyward Reach
Notes
Ad blocker interference detected!
Wikia is a free-to-use site that makes money from advertising. We have a modified experience for viewers using ad blockers

Wikia is not accessible if you've made further modifications. Remove the custom ad blocker rule(s) and the page will load as expected.