Skitt the Skizzle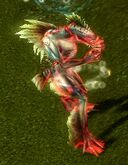 Classification
Description
Not to be confused with Skitt Skizzle.
Location
His spawning location is in the center of Nebo Terrace. If you set out from Beetletun, head West until you get to the area with the Gypsie Ettins. Turn south and he will be past a group of normal Bog Skales. He is accompanied by a mixture of Bog Skales and Bog Skale Icetooths. See the Nebo Terrace Map in this Wiki for a map to the spawning location.
He shares this spawning point with Gambol the Headrainer.
Skills used
Items dropped
Notes
It may be worthwhile to capture Deep Freeze from him, since it is otherwise not available until the Temple of the Ages.
Ad blocker interference detected!
Wikia is a free-to-use site that makes money from advertising. We have a modified experience for viewers using ad blockers

Wikia is not accessible if you've made further modifications. Remove the custom ad blocker rule(s) and the page will load as expected.