Sinvahn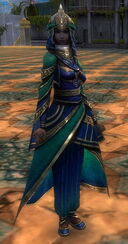 Classification
General
Sinvahn is a Vabbian wandering in the Garden of Seborhin. She is the cousin of Ling.
Location
Dialogue
"Ahai. Isn't this the most beautiful garden? My cousin, Ling, always asks me to send her flowers for her prince. I think she calls him an "emperor." Well, anyway, she tells me he always gives her the nicest cards."
Quotes
"Everything's so peaceful in a garden...especially one as old and lovely as this."
"These flowers grow nowhere else in the world. This garden is the last place they bloom."
Ad blocker interference detected!
Wikia is a free-to-use site that makes money from advertising. We have a modified experience for viewers using ad blockers

Wikia is not accessible if you've made further modifications. Remove the custom ad blocker rule(s) and the page will load as expected.