Siliss Yassith
Classification
Map(s)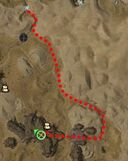 Location in The Arid Sea
General
Siliss Yassith is one of the Forgotten still inhabiting the Crystal Desert. He is the final objective of the quest Forgotten Wisdom which gives 15 attribute points as reward.
Quests Involved In
Location
Skills used
Ad blocker interference detected!
Wikia is a free-to-use site that makes money from advertising. We have a modified experience for viewers using ad blockers

Wikia is not accessible if you've made further modifications. Remove the custom ad blocker rule(s) and the page will load as expected.