Ad blocker interference detected!
Wikia is a free-to-use site that makes money from advertising. We have a modified experience for viewers using ad blockers

Wikia is not accessible if you've made further modifications. Remove the custom ad blocker rule(s) and the page will load as expected.
Siege Devourer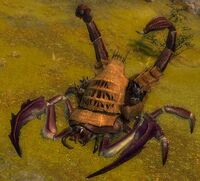 Classification
Map(s)

Grothmar Wardowns

Dalada Uplands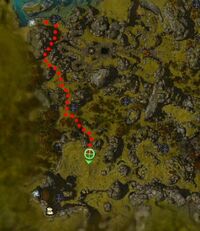 Sacnoth Valley
Description
"You are able to mount the Siege Devourer and take control of it. Doing so will replace your skills with those to command the Siege Devourer." Siege Devourers have 1000 health and 25 energy. Your energy regeneration is based on your class and equipment (i.e., a weapon with +15 energy and -1 energy regeneration will not provide the energy bonus, while still reducing your energy regeneration). They are enemies in the bonus mission, Gwen's Story.
Location
Skills used
When mounting the Siege Devourer:
While the Devourer is being controlled:
| | | | | | | | |
| --- | --- | --- | --- | --- | --- | --- | --- |
| | | | | | Empty | Empty | |
Notes
| Weapon Type | Damage | notes |
| --- | --- | --- |
| Axe/Hammer/Sword | 55 | Melee |
| Daggers | 40 | Melee, doublestrike chance |
| Scythe | 35 | Melee, hits multiple foes |
| Bow | 40 | Ranged |
| Staff/Wand | 40 | Ranged |
| Spear | 55 | Ranged |
Miniature

---