Shrine of Maat

Basic Info
Neighbor(s)
None
Map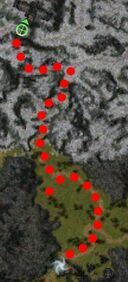 (click to enlarge)
Description
The Shrine of Maat is a small building located upon a mountain top in the north-western area of Sunqua Vale. It can only be reached by a bridge from the south. Its only resident is the monk Brother Sitai.
NPCs
Quests
The Shrine of Maat is subject of the following quests:
Notes
"Maat" probably refers to the Ancient Egyptian concept of Ma'at, which referred to truth, balance, and order and was often personified as a goddess.