Shining Blade Warrior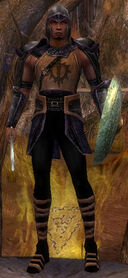 Classification
Description
These soldiers of the Shining Blade appear during Defend Denravi, where they help fighting off the invading Titans. They can also be found defending Lion's Arch during The Battle for Lion's Arch.
Locations
Skills used
Ad blocker interference detected!
Wikia is a free-to-use site that makes money from advertising. We have a modified experience for viewers using ad blockers

Wikia is not accessible if you've made further modifications. Remove the custom ad blocker rule(s) and the page will load as expected.