Shiloh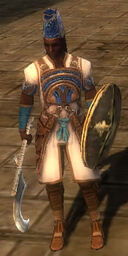 Classification
General
Shiloh is a Hero Skill Trainer, as well as a Sunspear Skill Trainer.
Location
Skills Offered
Skills in italics are available for free as quest rewards in at least one campaign.
Skills in bold are Nightfall campaign skills.
Skills in bold italics are Sunspear skills.
Trainer
Warrior

Ranger

Monk

Necromancer

Mesmer

Elementalist

Assassin

Ritualist

Paragon

Dervish

Shiloh at
Sunspear Great Hall

---

---

---

---

---

---

---

---

---

---
Notes
As of the June 15th update, Shiloh now converts regular skill points to Hero skill points for 1 platinum.
He also teaches the new PvE-only Sunspear Skills, at the cost of a 1 Hero skill point. Those skills are not mixed with non-PvE-only skills, they have an own skill-category called Sunspear Skills.
Ad blocker interference detected!
Wikia is a free-to-use site that makes money from advertising. We have a modified experience for viewers using ad blockers

Wikia is not accessible if you've made further modifications. Remove the custom ad blocker rule(s) and the page will load as expected.