Shen, the Magistrate
Classification
Map(s)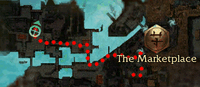 Wajjun Bazaar
Description
Shen, the Magistrate is a Jade Brotherhood monk boss. She is located on the docks of Wajjun Bazaar among a large group of Jade Brotherhood.
Location
Skills used
Items dropped
Notes
Her Word of Censure deals 150 damage, indicating that she has 15 Smiting Prayers on normal mode.
Ad blocker interference detected!
Wikia is a free-to-use site that makes money from advertising. We have a modified experience for viewers using ad blockers

Wikia is not accessible if you've made further modifications. Remove the custom ad blocker rule(s) and the page will load as expected.