Shashi
Classification
Dialogue
"Greetings and salutations. Have you ever seen such wonderful trophies in all of Elona? I think not! And wouldn't you know I found these expensive and rare talons in the garbage! All it took was a spit shine and some minor reconstructive work... and voila! I am the envy of all the collectors! Despite my superior taste, knack for finding bargains, and blessed-by-the-gods fortune, a fellow by the name of Hamri thinks he can outdo me. He's on a rampage to amass more items of questionable value than I. This cannot stand! Go out into the wilderness and slay me some behemoth gravebane and cobalt shriekers. If you bring me 5 Cobalt Talons so I can show that pot-bellied pack rat it is the great Shashi whose collection reigns supreme, I'll give you:"
Collector Items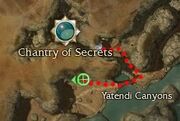 Shashi
Location: Yatendi Canyons, south of Chantry of Secrets.
Collecting: 5 Cobalt Talons
Ad blocker interference detected!
Wikia is a free-to-use site that makes money from advertising. We have a modified experience for viewers using ad blockers

Wikia is not accessible if you've made further modifications. Remove the custom ad blocker rule(s) and the page will load as expected.