Shaan
Classification
Map(s)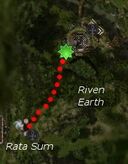 (click to enlarge)
Dialogue
"Ew! I mean...uh...rawr! Not very convincing, hm? I knew it. I'm a great hunter, but when it comes to bugs...I just can't do it! I can hunt the great lizards, the monsters of the deep, even the fiercest mountain cat, but spiders? Ew! Hey, maybe you can help. If you bring me 5 Weaver Legs, I can redeem my name! I'll trade you the fruit of my labors in return."
Collector Items
Shaan
Location: Riven Earth, northeast of Rata Sum
Collecting: 5 Weaver Legs
Ad blocker interference detected!
Wikia is a free-to-use site that makes money from advertising. We have a modified experience for viewers using ad blockers

Wikia is not accessible if you've made further modifications. Remove the custom ad blocker rule(s) and the page will load as expected.