Seung Kim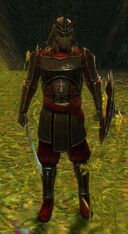 Classification
Dialogue
"During the Tengu Wars, we learned to respect the tenacity and honor of the Tengu. Now that the wars have ended, we have begun to accept our differences and coexist peacefully. Unfortunately, those savage Sensali Tengu are undoing all of our hard work. They have refused to put down their swords, and they continue to raid our settlements. Someone must put a stop to their attacks! Kill some Sensali Tengu and bring me 5 Feathered Scalps as proof of their demise, and I will give you this in return:"
Collector Items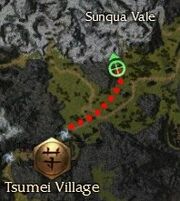 Seung Kim
Location: In Sunqua Vale, North East of Tsumei Village, at the foot of the snowy peaks
Collecting: 5 Feathered Scalps
Ad blocker interference detected!
Wikia is a free-to-use site that makes money from advertising. We have a modified experience for viewers using ad blockers

Wikia is not accessible if you've made further modifications. Remove the custom ad blocker rule(s) and the page will load as expected.