Seung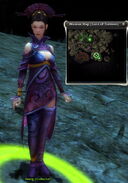 Classification
Dialogue
"These demons give us Necromancers a bad name. Care to help me inflict a little pain on the graven monoliths? I thought that might get your attention, adventurer. If you go out and fight them, you could push them back a bit. Prove to me you've got the strength for such a task, and I'll reward you handsomely. Bring me 5 Demonic Relics, and I'll give you:"
Collector Items
Seung
Location: Gate of Torment (southeast)
Collecting: 5 Demonic Relics
Ad blocker interference detected!
Wikia is a free-to-use site that makes money from advertising. We have a modified experience for viewers using ad blockers

Wikia is not accessible if you've made further modifications. Remove the custom ad blocker rule(s) and the page will load as expected.