Sergeant Brannen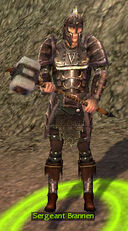 Classification
General
Sergeant Brannen is an officer of the Ascalon Vanguard, leading the troops that try to purge Regent Valley of Charr.
Quests Given
Location
Dialogue
"I still remember the days when the Charr feared the Wall and the might of Ascalon. Don't you forget them either.
What's on your mind?"
Ad blocker interference detected!
Wikia is a free-to-use site that makes money from advertising. We have a modified experience for viewers using ad blockers

Wikia is not accessible if you've made further modifications. Remove the custom ad blocker rule(s) and the page will load as expected.