Sentry Golem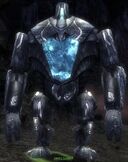 Classification
Description
Sentry Golems are found in several Dungeons. They don't do anything to you until you activate some quests where they fight against you.
There appears to be three different types of sentry golems: The plain gray one which seems to be a warrior, one with a blue plate on it's front that appears to be an air elementalist, and the dervish golem which looks identical to the elementalist but is much bigger in size.
Location
Skills used
Warrior
Elementalist
Dervish
All
Items dropped
Ad blocker interference detected!
Wikia is a free-to-use site that makes money from advertising. We have a modified experience for viewers using ad blockers

Wikia is not accessible if you've made further modifications. Remove the custom ad blocker rule(s) and the page will load as expected.