Sehti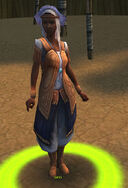 Classification
General
Sehti is the mother of Suwash.
Quests Given
Location
Dialogue
"Change blows like a wind across our land. But our people are like the plants of the plains... we may bend under the pressure, but we shall never break."
Ad blocker interference detected!
Wikia is a free-to-use site that makes money from advertising. We have a modified experience for viewers using ad blockers

Wikia is not accessible if you've made further modifications. Remove the custom ad blocker rule(s) and the page will load as expected.