Seer Fiercereign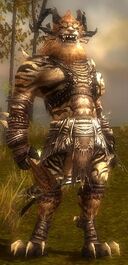 Classification
General
Seer Fiercereign appears as a member of Pyre Fierceshot's warband.
Quests Given
Quests Involved In
Location
Skills Used
Dialogue
"I was thankful for my freedom...until I saw it was a human who set me loose. Out of my way, lunchmeat."
"Hrmph."
"Pyre Fierceshot gave me command of this artillery post. Only Pyre's friends may traverse the Dalada Uplands"
Trivia
Seer Fiercereign once ruined a bag with Aggressive Ooze. His title is "Siegemaster of Dalada Uplands".
Ad blocker interference detected!
Wikia is a free-to-use site that makes money from advertising. We have a modified experience for viewers using ad blockers

Wikia is not accessible if you've made further modifications. Remove the custom ad blocker rule(s) and the page will load as expected.