Seear Windlash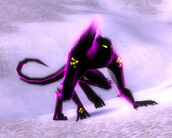 Classification
Description
Seear Windlash is an Azure Shadow mesmer boss found in Talus Chute (just outside Camp Rankor). It shares spawn points with three other Azure Shadow bosses.
Location
Skills used
Items dropped
Notes
The fastest way to capture from this boss is to enter from Camp Rankor and seek him out in the 2 spots nearest the outpost. If he is not there, simply go back to Camp Rankor and go out again.
Ad blocker interference detected!
Wikia is a free-to-use site that makes money from advertising. We have a modified experience for viewers using ad blockers

Wikia is not accessible if you've made further modifications. Remove the custom ad blocker rule(s) and the page will load as expected.