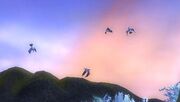 Seagulls can be seen flying above Leviathan Pits, Divinity Coast and Lions Arch. Seagulls can also be seen on the Nightfall version of the character selection screen.
You can also find some seagulls in the Gates of Kryta mission and in the D'Alessio Arena.
Ad blocker interference detected!
Wikia is a free-to-use site that makes money from advertising. We have a modified experience for viewers using ad blockers

Wikia is not accessible if you've made further modifications. Remove the custom ad blocker rule(s) and the page will load as expected.