This article is about a part of Guild Wars that has been removed from the game .

Please see the history of this article for further information.

Seaguard Ekarus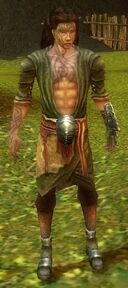 Classification
General
Seaguard Ekarus was an NPC in the Luxon Settlement in Kryta. His son, Dalos Ekarus, is in love with a Kurzick. He was kicked out of Kryta after several conflicts with the Kurzicks there.
Quests Given
Quests Involved In
Location
Trivia
Ad blocker interference detected!
Wikia is a free-to-use site that makes money from advertising. We have a modified experience for viewers using ad blockers

Wikia is not accessible if you've made further modifications. Remove the custom ad blocker rule(s) and the page will load as expected.