A character involved in the quest Failure to Communicate. You rescue him after talking to Anton
Scout Winslow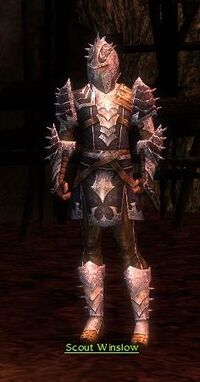 Classification
Quests Involved In
Location
Quotes
Before Rescuing
"I'm too young to die! Too young, attractive...and modest!"
"Help! Help me! I have a wife! And kids! And a pet!"
"I won't tell you a thing no matter what you do to me! Wait. Ouch. Uncle!"
"You don't want to eat me. I'm hallucinogenic! Like a toad...a really big toad!"
"Ha ha. I have you all where I want you. My plan is working perfectly. Wait for it...wait for it..."
Notes
The warthog next to him may be the pet he's referring to.
Even after you "rescue" him, he's still inside the cage.
Ad blocker interference detected!
Wikia is a free-to-use site that makes money from advertising. We have a modified experience for viewers using ad blockers

Wikia is not accessible if you've made further modifications. Remove the custom ad blocker rule(s) and the page will load as expected.