Scout Melthoran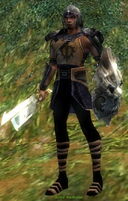 Classification
General
Scout Melthoran is a scout of the Shining Blade.
Skills used
Level 20 Ranger
Quests Involved In
Location
Dialogue
In Reed Bog:
"Nobody knows the forest as well as the Shining Blade. If any of the White Mantle comes here, they haven't got a prayer.
How can I help you?"
In Talmark Wilderness:
"I'm grateful to have made it out of the Maguuma Jungle alive. So many of our friends died in the Henge of Denravi. I will forever curse Markis' name for his treachery, but as you can see we have not been defeated."
Notes
In "Blood And Smoke" he uses a sword and a shield, while he wields a bow in Talmark Wilderness.
Melthoran can be encountered as an ally who aids the player in which case he will be a level 20 Ranger/Paragon.
Ad blocker interference detected!
Wikia is a free-to-use site that makes money from advertising. We have a modified experience for viewers using ad blockers

Wikia is not accessible if you've made further modifications. Remove the custom ad blocker rule(s) and the page will load as expected.