Scourgewind, Elder Guardian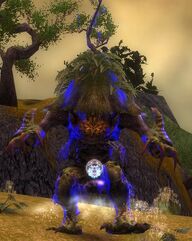 Classification
Description
Scourgewind, Elder Guardian tends to his Rot Wallow flock right outside of the Leviathan Pits (southern exit, stick to right). There are two groups of three Rot Wallows each circling him (a total of six). Each group of three can be pulled away and killed separately, leaving Scourgewind alone.
Locations
Skills used
Items dropped
Ad blocker interference detected!
Wikia is a free-to-use site that makes money from advertising. We have a modified experience for viewers using ad blockers

Wikia is not accessible if you've made further modifications. Remove the custom ad blocker rule(s) and the page will load as expected.