Scarlot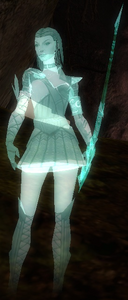 Classification
General
Scarlot is a ghost encountered during The Flight North.
Location
Dialogue
Scarlot: "Velise may no longer be with us, but no matter how many Charr we face, remember we are not outnumbered. All of Ascalon stands with us this day. We shall not fail. We fight for the lives of our countrymen. We fight for their future!"
Ad blocker interference detected!
Wikia is a free-to-use site that makes money from advertising. We have a modified experience for viewers using ad blockers

Wikia is not accessible if you've made further modifications. Remove the custom ad blocker rule(s) and the page will load as expected.