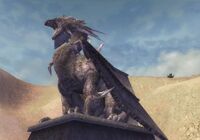 General Information
Area Name: Salt Flats
Region: Crystal Desert
General Description: Storm Kin float effortlessly across this wasteland, while the Rockshot Devourers plant traps to waylay careless explorers. A statue of the dragon Glint (purple dot) lies in the center. The area includes three pairs of two-way teleporters, none of which are required for travelers.
Exits / Neighbour Areas
Outposts:
Bestiary
Monsters
Bosses
NPCs
Collectors
Artisan
Skill Capture
Notes
To receive credit for the Vanquisher title track in this area you must defeat 185-247 foes in Hard Mode.
Total exploration of this area will give 1.7% towards Tyrian Explorer Title Track.
The head, arm and leg of the mysterious statue found in The Arid Sea appear close to the portal leading to Prophet's Path.
Ad blocker interference detected!
Wikia is a free-to-use site that makes money from advertising. We have a modified experience for viewers using ad blockers

Wikia is not accessible if you've made further modifications. Remove the custom ad blocker rule(s) and the page will load as expected.