Salke Fur Friend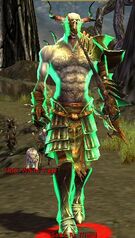 Classification
Map(s)

Location
Description
Salke Fur Friend is a warden ranger boss. He is in a patrol with a few other wardens near Jade Flats (Kurzick).
Locations
Skills used
Items dropped
Notes
His pet is always a level 15 White Tiger, the specific evolution varies, typically between Elder and Dire.
As you load into the zone, flag your heroes and henchmen (using the U map) to the spot just left of the bottom of the ramp where Salke Fur Friend Patrols. This takes about 30 seconds. Once your heroes and henchmen are in position run down the grassy hill to the opposite side of where they will be fighting. You'll see in your party tab that your H&H's have begun fighting with the boss. At this point you should be able to Charm the White Tiger with little to no interference as Salke will be tied up in battle.
Ad blocker interference detected!
Wikia is a free-to-use site that makes money from advertising. We have a modified experience for viewers using ad blockers

Wikia is not accessible if you've made further modifications. Remove the custom ad blocker rule(s) and the page will load as expected.