Salani Pippip
Classification
Map(s)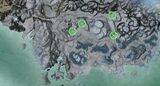 Locations in Witman's Folly
Description
Salani Pippip is a ranger boss which often appears with a mixed group of several Grawl Crones and Grawl. He shares four spawn points with four other bosses, so he may not always appear.
Location
Skills used
Items dropped
Notes
When trying to capture this boss's elite skill, the easiest method is to scout the two boss spawn points nearest Port Sledge — which can easily be done without fighting any enemies — and rezoning if he hasn't spawned.
Ad blocker interference detected!
Wikia is a free-to-use site that makes money from advertising. We have a modified experience for viewers using ad blockers

Wikia is not accessible if you've made further modifications. Remove the custom ad blocker rule(s) and the page will load as expected.