Saito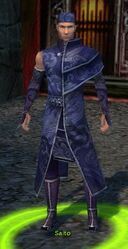 Classification
General
Saito tries to do good, but people take it the wrong way. He is marked for assassination and needs help.
Quests Given
Location
Dialogue
"Are you available for hire? An Assassin is stalking me. He attacked me earlier, but fortunately the guards drove him off. I know he is still out there somewhere...."
Ad blocker interference detected!
Wikia is a free-to-use site that makes money from advertising. We have a modified experience for viewers using ad blockers

Wikia is not accessible if you've made further modifications. Remove the custom ad blocker rule(s) and the page will load as expected.