General Information
Area Name: Sage Lands
Region: Maguuma Jungle
General Description
The first thing that most will see of the uninhabitable Maguuma Jungle, the Sage Lands are mostly composed of dry, redstone highlands, though along the Northwestern edges and in a few canyons farther east, examples of the more heavily vegetated parts of the Maguuma may be found.
Exits / Neighbour Areas
Outposts & Cities
Objects / Points of Interest
NPCs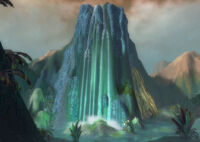 Bestiary
Monsters
Bosses
Devourers:
Plants:
Riders:
Scarabs:
Spiders:
Pets
Statues
Notes
Vanquishers must defeat 214-294 monsters in this area.

Moss Scarabs have Verata's Gaze, making minions a hindrance rather than a help in some areas.
On both ramps that lead down into the lagoon at the falls (purple box on map), sweep ahead very slowly and carefully. There are many delayed Moss Scarab pop-ups, and their numbers can easily overwhelm you, especially if you have a large number of minions.
Ad blocker interference detected!
Wikia is a free-to-use site that makes money from advertising. We have a modified experience for viewers using ad blockers

Wikia is not accessible if you've made further modifications. Remove the custom ad blocker rule(s) and the page will load as expected.