Sage Bollnar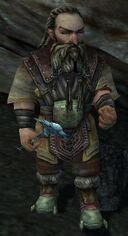 Classification
Sage Bollnar
Sage Bollnar is a dwarven sage standing next to Outrunner Remlok. When spoken to, he gives you more information regarding Sepulchre of Dragrimmar.
Dialogue
What can you tell me about the Anvil of Dragrimmar?
What defenses might we face in the sepulchre?
What of the creatures that lurk within?
Location
Notes
Skills Used
Ad blocker interference detected!
Wikia is a free-to-use site that makes money from advertising. We have a modified experience for viewers using ad blockers

Wikia is not accessible if you've made further modifications. Remove the custom ad blocker rule(s) and the page will load as expected.