Runar Brimstone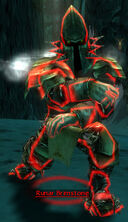 Classification
Description
Runar Brimstone is a Stone Summit boss inside the Sorrow's Furnace. He has the same skills as the other Elementalist bosses there, but he drops unique items for Air Magic.
Locations
If you have Chains of Enslavement on you, you can not attack him because he is a member of the Stone Summit.
Skills used
Items dropped
Note
Runar Brimstone is one of the bosses included in the Brand the Boss contest. It was named by Avens of Harm of the United States.
Ad blocker interference detected!
Wikia is a free-to-use site that makes money from advertising. We have a modified experience for viewers using ad blockers

Wikia is not accessible if you've made further modifications. Remove the custom ad blocker rule(s) and the page will load as expected.