Rotal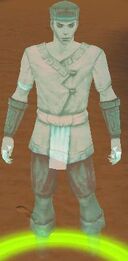 Classification
Rotal is dead and his bones can be found in the Arid Sea. He appears after you examine his bones as part of a quest. The name of his wife is Shanrah, and his daughters are Kyrisah and Meymo.
Be wary of the possibility of a Sand Wurm popping up nearby.
Quests Involved In
Location
Dialogue
"I have spent an eternity swallowed by guilt. Now I only wish for forgiveness."
Note
His bones still appear in the Arid Sea, even if you do not have the quest active.
Ad blocker interference detected!
Wikia is a free-to-use site that makes money from advertising. We have a modified experience for viewers using ad blockers

Wikia is not accessible if you've made further modifications. Remove the custom ad blocker rule(s) and the page will load as expected.