Rore Aleswigger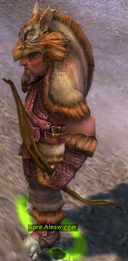 Classification
Location
Dialogue
"Those cookies have been staring at me all day! I wonder if I would get in trouble for just taking a nibble. I mean, why else would they be here if not to eat? Maybe I could get you to stand in front of me so no one sees me take a piece..."
Ad blocker interference detected!
Wikia is a free-to-use site that makes money from advertising. We have a modified experience for viewers using ad blockers

Wikia is not accessible if you've made further modifications. Remove the custom ad blocker rule(s) and the page will load as expected.