Root Behemoth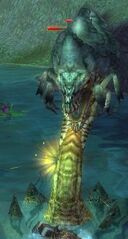 Classification
Map(s)


The Falls (marked in yellow)
Description
Root Behemoths use ranged attacks until the player is close (firing stones), and then switch to melee (biting). There is a distance between their melee range and their distance attack range in which they will not attack. It is possible to stand near them without them attacking. They commonly have two to three Life Pods hidden around them that will emerge when approached.
Location
Skills used
Normal Mode
Hard Mode
Items dropped
Notes
Ad blocker interference detected!
Wikia is a free-to-use site that makes money from advertising. We have a modified experience for viewers using ad blockers

Wikia is not accessible if you've made further modifications. Remove the custom ad blocker rule(s) and the page will load as expected.