Ronna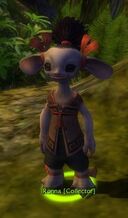 Classification
Dialogue
"Monkeys are so soft and fuzzy! Momma said I could have a monkey fur blanket, but it will be months before my father comes home from work. He does the magical weaving in the family. I know...you could do it! If you could get just 5 patches of Simian fur I would have enough for a blanket. Please? Please? I will give you this:"
Collector Items
Ronna
Location: Vlox's Falls
Collecting: 5 Patches of Simian Fur
Ad blocker interference detected!
Wikia is a free-to-use site that makes money from advertising. We have a modified experience for viewers using ad blockers

Wikia is not accessible if you've made further modifications. Remove the custom ad blocker rule(s) and the page will load as expected.