Rohtu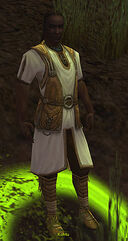 Classification
General
Rohtu is a quarryman who had lost his father in an accident at the quarry.
Quests Given
Location
Dialogue
"I grew up with the quarrymen on the Cliffs of Dohjok. Working the quarry has always been second nature to me. Call it fate. Call it my lot in life. It's just what I do."
Ad blocker interference detected!
Wikia is a free-to-use site that makes money from advertising. We have a modified experience for viewers using ad blockers

Wikia is not accessible if you've made further modifications. Remove the custom ad blocker rule(s) and the page will load as expected.